Rosland Capital understands the difficulty investors face trying to protect their retirement savings in today's unstable market. That's why Rosland Capital offers the Rosland Capital Gold and Precious Metals IRA, which is backed by physical assets, not paper investments. Precious metals offer a hedge to help your portfolio hold its value – and will provide support to you when your time comes to retire.
Most individuals saving for retirement qualify for a precious metals-backed IRA, but are unaware the choice even exists. Since 1986, the IRS has allowed individuals to hold precious metals with their IRA, offering a hedge against stock market volatility and decline. Common types of retirement plans that may qualify include traditional and Roth IRA's, SEP IRA's, 401(K)s and 403(B)s.
Establishing a precious metals-backed IRA with gold and silver from Rosland Capital is as easy as completing a few forms. Simply call (800)679-6482 and a Rosland Capital representative will guide you through the complete process and answer any questions you may have. The IRA can be implemented immediately, either by starting a new IRA or the transfer of an existing retirement plan. You may select to transfer all or a portion of your existing retirement account to a gold and precious metals IRA backed with gold and silver from Rosland Capital. It is important to note that there are no tax implications or penalties when transferring assets from one qualified retirement plan to another. However, as with any investment vehicle, you should consult a tax professional regarding your specific tax situation.
Follow Rosland Capital on Twitter
Making Contributions to Your IRA
As with traditional IRA's, anyone under age 70½ who earns income can make annual contributions to a gold and other precious metals-backed IRA. These contributions can be made anytime during the year that you claim the deduction, or during the following year before you file your next income tax return. If you file for an extension, you must make your contribution on or before April 15 of the following year. Currently, the maximum contribution for most IRA's is $5,500 per year. However, taxpayers age 50 or older may contribute $6,500 annually; and SEP plans have higher contribution limits. The simplest way to make a contribution to your gold and other precious metals IRA is via a direct rollover, transfer, or a distribution from an employer retirement plan that is sent directly to your IRA. Because some of these transactions may be subject to taxes, Rosland Capital recommends consulting your tax advisor on these matters.
Withdrawing From Your IRA
As with traditional IRAs, you can begin making withdrawals from your gold and precious metals IRA backed by gold and silver from Rosland Capital at age 59½. Funds withdrawn before that date are subject to a 10 percent penalty, except under certain circumstances. The IRS requires you to begin withdrawals at age 70½..
The Rosland Capital Guide to Gold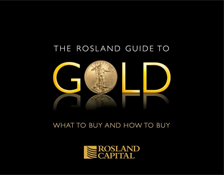 2015, Rosland Capital released The Rosland Capital Guide to Gold to educate people on the benefits in adding gold as part of their asset portfolios. Part of the sale of each book is donated to the American Red Cross.
About Rosland Capital
Rosland Capital was founded in 2008 by Marin Aleksov and strives to educate people on the benefits of protecting their wealth through gold, silver and precious metals. Currently serving customers in the United States, the UK and Germany, Rosland Capital offers gold, , platinum, palladium, and silver bars and bullion coins for customer collections and portfolios. Rosland Capital has an A rating from the Better Business Bureau and also offers Precious Metal-backed IRAs.
Rosland Capital Reviews
"My husband and I researched online for weeks and talked to several agents at other gold companies. We finally decided and bought from Rosland Capital because of Heather's vast knowledge of the industry and her excellent customer service. She is extremely detailed oriented and has great communication etiquette. She has been in constant communication with us regarding market updates and the status of our account. We feel comfortable knowing that we will have someone on the phone that knows our names and has our best interest at heart. We bought twice already and each time the service just gets better and better. We are happy with Rosland Capital and happier working with Heather Ho. We highly recommend her to you and all of our friends and family." - Joe & Nora, February 13, 2018